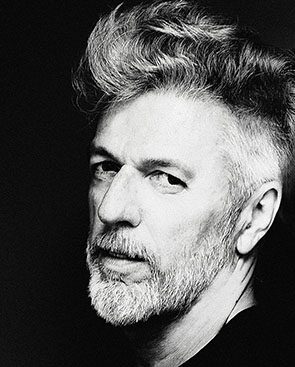 Born in Lausanne, Switzerland, Toni Thorimbert began his career in Italy in the mid seventies as a politically involved reportage photographer. At the age of 20, he won his first award of excellence from the Italian Professional Photographers Association.
In the 80s, masterly mixing the iconic styles of fashion, portrait and reportage he contributed to define the image of magazines such as Amica, Max, Sette, Italian Vanity Fair and Myster. In the 90s he started to export his work overseas, shooting, among others, for magazines such as Brutus (Japan) Wallpaper (GB), Du (CH) , Details and Mademoiselle (USA) In 1995 he received the Art Director Club award for creativity in portrait photography. Diesel, Fred Perry, Lierac, Heineken, Ducati, Volkswagen, Pirelli and Martini are only few brands out of his consolidated advertising client list.
His photographs have been largely exhibited in galleries and museums, both in Italy and abroad. In 2000 he published the autobiographical book TRANSFERT, curated by Filippo Maggia, and in 2006 "Carta Stampata", 30 years of magazines photography. His latest book, "Seduction of Photography" (2016), a self-published art essai in a limited edition of 300 copies, is a "mise en scene" about the power inherent in the act of photographing - and being photographed.
In 2007 he created the influential blog "Toni Thorimbert, the blog behind the images" (www.tonithorimbert.blogspot.com)